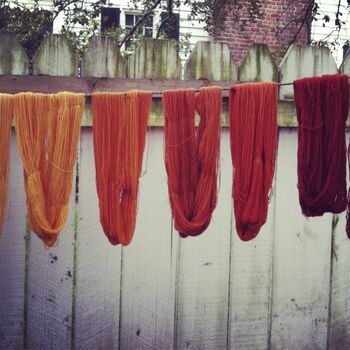 Welcome to the Natural Dyes Wiki
Edit
Welcome to the dye wiki. We a collaborative community of dyers, fiber artists, and textile artists who aim to create a database of natural dyes, dye techniques, and resources. Are you an experienced dyer? Do you want to share your knowledge? We welcome new contributors to our community!
When we talk about dyeing fiber and textiles, we are referring to the process of adding color through chemical processes -- even when we talk about natural dyes. Dyeing can be a rewarding process that yields unique, and often unexpected results. Sometimes it can be difficult to find resources describing natural dyes and dye processes. Our goal is to create a free and accurate resource for those interested in dyeing their own textiles.
Many of our pages include safety suggestions, but please keep in mind that our contributors, without limitation, are not responsible for any injury, illness, loss, damage to personal property, or death as a result of the use of any information presented in this wiki.
Latest activity
Edit